Strategies
This is a list of some basic strategies in Slither.io. There are no perfect strategies or techniques, but learning these basic moves can help you get started on your quest to becoming the biggest snake!
Cutting People Off
One of the most basic techniques in Slither.io is using a burst of speed to suddenly turn in front of another player, causing them to run into you and pop into a giant sea of pellets that you can grab. Even if you're much smaller than another player, its still very possible to throw yourself in their path and kill them! If you notice someone near you suddenly put on a burst of speed, watch out! They may be preparing to try and cross your path just ahead of you.
Coiling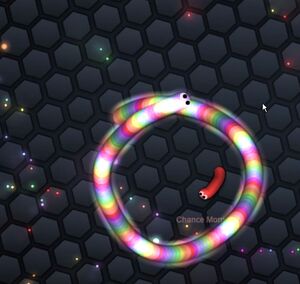 Coiling refers to a strategy of completely encircling an opponent. As you continue moving, your coils constrict, making it difficult or impossible for an opponent to avoid hitting you. However, while executing this technique, you are vulnerable to a larger snake coming along and coiling around you! In addition, if you can't quite create a complete loop or before you do, its possible for your intended victim to shoot out of the gap, blocking your path and killing you instead!